Redesdale:
Rural Cafe  Open 7 days 8am to 6pm. Located on the Heathcote-Kyneton Road next to the Redesdale CFA fire-station. A great place to stop for a snack. Excellent coffee and fresh cakes. Proprietors – Shane McGrath and Elizabeth Carr
The Redesdale pub reopened in November 2015 and is now serving fantastic pub food using local ingredients and local wines and beers. For more information click on the link. www.theredesdalehotel.com.au
RESERVATIONS Call 03 4405 0601 – 11am -9pm daily, Reservations required for parties of 6 or more.
Kyneton:
Mr Carsisi (Turkish) : www.mrcarsisi.com
Pizza Verde (Italian): 03-5422-7400 https://www.facebook.com/pages/Pizza-Verde/108689265860475
The Royal George Hotel
(Fine and casual dining):
www.royalgeorge.com.au
Dhaba at the Mill
(Indian):
www.dhaba.com.au
Castlemaine:
www.travelvictoria.com.au/castlemaine/food/
Axedale:
The Axedale tavern
:
www.axedaletavern.com.au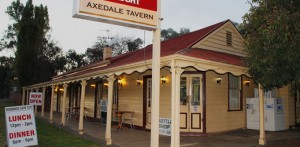 Bendigo: