Travellers have been taking this historic journey from Bendigo to Heathcote since 1888, when the train service was a Victorian Railways timetabled Wallan – Bendigo schedule. Trains stopped running in 1958, and the route lay largely dormant until the first section of the O'Keefe Rail Trail opened in 1993.
Today the recreational trail which is located on the site of the old railway line, again allows users to journey the full 49 kilometres, albeit at a slightly slower pace. It's just as well too, as there's lots to take in.
The safe, mostly-level walking and cycling trail is one of Victoria's great family-friendly journeys. It passes through some spectacular natural bushland, past waterways and recreation reserves, perfect for picnics, wildflower or platypus spotting.
Whether you are preparing for a short or long journey along the O'Keefe Rail Trail, or even an overnight stay, there are numerous experiences, attractions and tourism operators awaiting your visit.
For more information, click here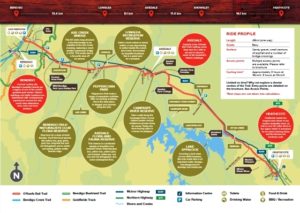 The O'Keefe Rail Trail passing through Lake Eppalock