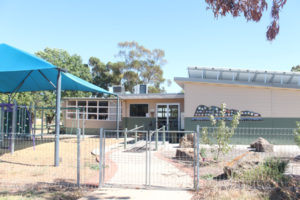 Redesdale Mia Mia Primary School has been an integral part of the local community for over one hundred years. Our well-resourced school is set in large grounds with room for our students to run and play. We have ample play equipment, a school oval, tennis courts, outdoor seating, school farm (chooks and sheep) and a vegetable garden. Inside we have two classrooms, an additional room that is available to the community for projects and meetings, as well as office and withdrawal space for students to work quietly with teachers.
We are committed to providing the best educational outcomes for all students and in particular building a strong foundation in English and Mathematics. Our broader curriculum includes physical education, art and music, science, history, and our local environment. We work tirelessly to know and understand each child and to ensure they reach their learning potential
We have an active and involved parent body with monthly School Council meetings. Parents provide significant support in all aspects of our school. Our small school means we have developed a highly personalised, caring community environment. We truly are a country school within reach of the city – the best of both worlds
If you require additional information or have any questions, please contact us. You are welcome to visit our school at any time.
Principal: Andrew King
31 School Road, Redesdale, VIC 3444
Telephone: (03) 5425 3155
Fax: (03) 5425 3264
Our Newsletters:
Primary School Newsletter May 2020
Primary School Newsletter April 2020
Primary School Newsletter February 2020
Primary School Newsletter December 2019
Primary School Newsletter September 2019
Primary School Newsletter August 2019
FEB Bridge Connections RMMPS report
Primary School Newsletter Nov16 2018